Spent all day yesterday hanging out with a good friend, Peter Miller.
To see someone I care about dealing with Leukaemia (CLL) and putting all the theory and philosophy of martial arts into practise to not only cope, but to grow and evolve through such an experience is humbling, inspiring and deeply profound. I highly recommend people read his blog. For those of you who struggle with the topic of death, it will challenge you. But for everyone, it will likely inspire you to live better. It will inspire you to find gifts in important places, and teach you how to change your perspective if your current perspective doesn't give you the tools you need to live well.
I still remember a series of discussions with Peter from many years ago now about martial theory, and about seeing everything as a gift. We had been talking about seeing an attack as a gift. Rather than seeing combat as something negative, or violent, or aggressive, seeing it as just another thing that you can engage in with joy. How treating all challenges of any sort as a gift changes your frame of thinking, giving you more options to affect a more awesome and holistic outcome for all involved. Little did I realise how useful this discussion would become.
Yesterday Peter showed me how to take a branch of wood and turn it into my new martial arts weapon. Hurrah! It involved breathing, learning to feel what the wood wanted to do, putting down anything negative to ensure each action of planning was smooth and uninterrupted. Basically everytime I got frustrated or agitated, including when just talking about life, I would make a mistake. It turns out planing a piece of wood is the best type of litmus test for calmness and mindfulness 🙂 A few hours in  and I was extremely relaxed, extremely productive and even managed to complete it (apart from sanding and finishing bits).
Thank you for the meditation lesson Peter, I accept this gift, and am a better person for it. You continue to create an amazing legacy of things, people, perspectives and inspiration.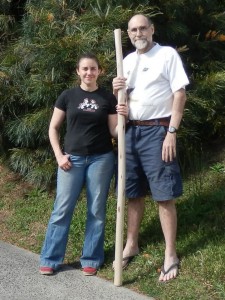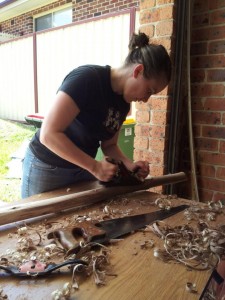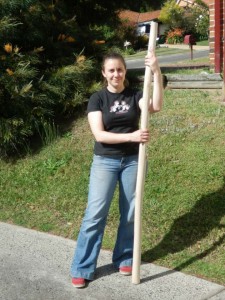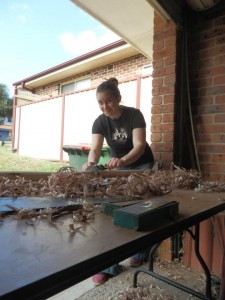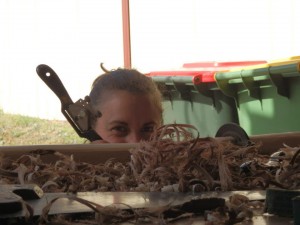 Note for others: I did a talk about the idea of applying martial arts to everyday life that covers this idea last year for those interested.